What is supply chain finance?
Supply chain finance (SCF) bridges the competing interests of suppliers and buyers.

Suppliers want to be paid immediately, while buyers want to pay as late as possible. Large buyers will leverage their bargaining power to push out payment terms with suppliers.

SMEs based in Asia typically sell on an open account basis, where goods are shipped to European and North American buyers before payment is due. Payment terms of 180 days after delivery is standard.

As a result, suppliers will seek to sell their accounts receivables at a discount to a 3rd Party to get cash sooner. The 3rd Party will receive the full invoice amount directly from the original buyer in 180 days.

The arrangement can be beneficial to all parties: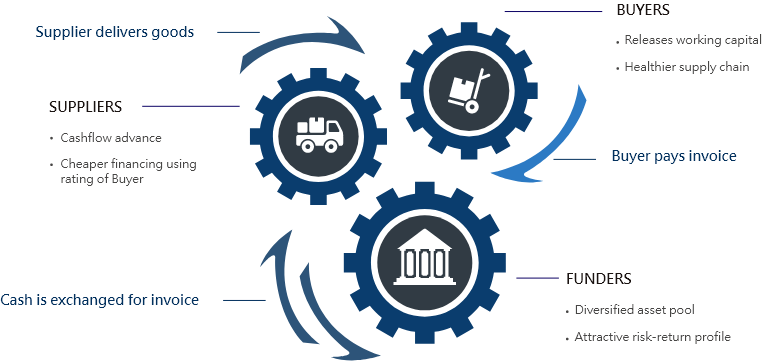 The rise of Factoring Platforms
The SCF market has traditionally been dominated by banks acting as the funder. However FinTechs are now disrupting the industry, tripling their market share in the last decade.

Factoring platforms are exchanges for buying and selling receivables. They open up new funding sources for SMEs. They perform important functions for 3rd Party funders too - helping to mitigate fraud and operational risks.

The leading independent B2B trade finance platform in Asia is VTeam. The platform has been providing trade finance solutions for over 20 years and has a zero default track record since launching in 2015.
The difference in our SCF strategy
We are highly selective about the receivables we finance in our client portfolios. We screen the factoring platform offerings for interesting investment opportunities. Our evaluation considers not only the rate of return but also suitability for the portfolio given our clients' investment criteria.

Speak to us to see if an allocation to supply chain finance could be the right decision for your portfolio