Why Luxembourg
The world's second largest fund management center
The world's second largest fund management center (over 200 billion euros, second only to the United States).

Political stability.

The European Court of Justice, the European Parliament Secretariat, the European Investment Bank and the European Investment Fund are all located here.

Have the highest per capita GDP in the world.

The most important private banking center in the Eurozone.

The world's largest cross-border fund distribution center.

Bonds issued by the world's largest multilateral lenders are listed on the Luxembourg Stock Exchange.

One of the world's largest financial center.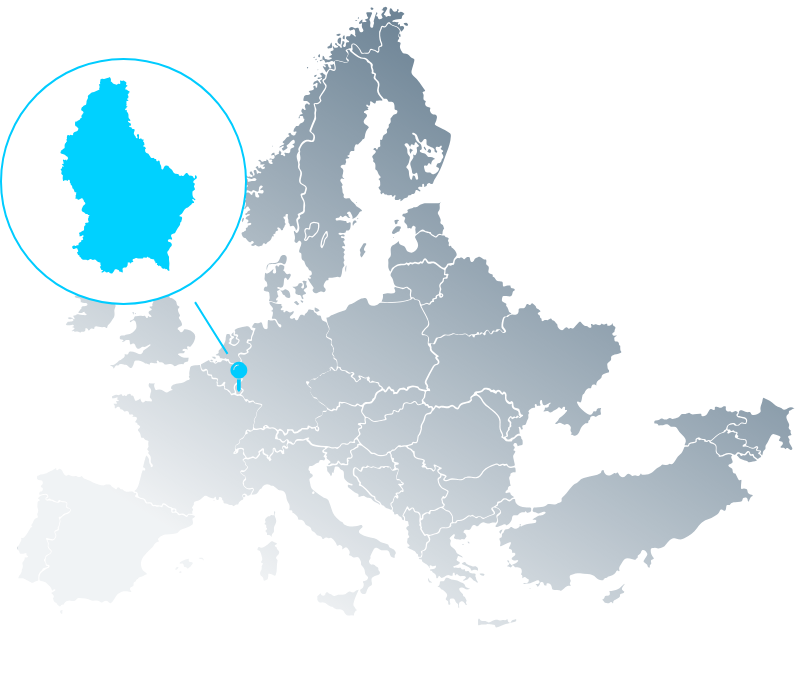 Possess the leading indicator of one of the world's largest financial centers
Has 143 listed banks, among them, foreign banks accounted for 78%; 98 insurance companies, including 44 property insurance companies, 50 family insurance companies and 3 comprehensive insurance companies and 223 reinsurance companies, forming a superior financial services network.
The total assets of the banking industry reached 766.6 billion euros, about 21 times the total amount of its economy; bank deposits are 10 times the total amount of their economy; the financial industry employs 4,350,000 people and about 7.73% of the total population; the tax paid is 40% of the state's fiscal revenue; financial industry output accounts for about 25% of GDP.
From 29 countries (regions), total 233 stocks listed and 25,800 bonds for sale here; there are 6507 listed companies in 397 companies; the Luxembourg Stock Exchange handles 42,000 securities from approximately 3,000 companies in 104 countries and regions, is an important medium for European securities trading.
Banks of Fortune 500 companies set up branches here. Including BNP PARIS (39th in the world's top 500), Bank of Spain (BANCO SANTANDER, 75th in the world's top 500), Bank of China (BANK OF CHINA, 35th in the world's top 500), HSBC (HSBC) , No. 68 of the world's top 500), Industrial and Commercial Bank of China (IC & CMERCIAL BANK OF CHINA, 15th in the world's top 500), etc.
The financial industry involves a complete range of products. The related services are highly developed, involved private banking, corporate finance, asset-backed bonds, securitization, international retirement funds, investment funds, etc. Locally developed insurance (reinsurance) products are active in export.
Attractive tax system
Stable and consistent tax regulations.

Enter bilateral tax treaties with more than 75 countries around the world to avoid double taxation on the same income in both countries.

Enjoy all the advantages of the EU tax law.

Effective distribution of profits.

Dividends and capital gains are tax exempt under the tax exemption policy.

Interest, license fee income, dividends, etc., are not subject to withholding tax (when certain conditions are met).

Exemption from capital tax / stamp duty.

Management services and administrative services are exempt from VAT.

Provide a special tax system for foreign highly skilled employees (when certain conditions are met).
About Luxembourg regulatory mechanism
Board of Directors: assume the ultimate responsibility of the fund.

Management Company (ManCo): specializing in Net Value (NAV) calculation, risk management and operational supervision.

Regulatory Body (CSSF): granting fund approval, supervision/authorization, and penalties for violations.

Audit: specializing annual audit of accounts and reporting to CSSF.

Depositary Bank: Specializing in custody of assets, net worth (NAV) calculation, transaction settlement, and prospectus compliance review.

Administrative: specializing in net asset value calculation and shareholder registration.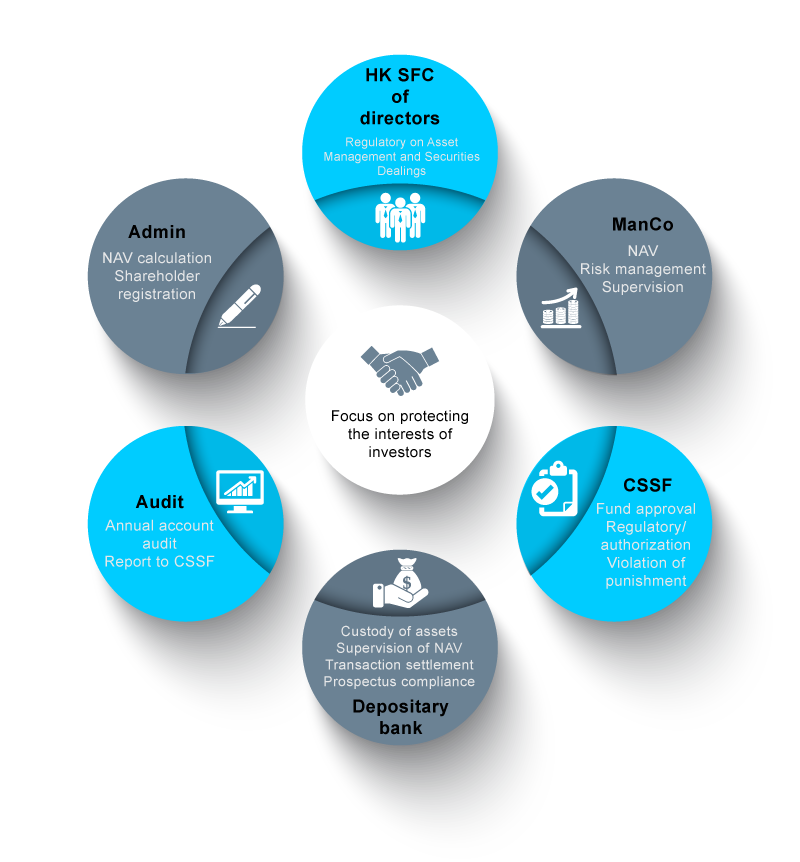 About Alternative Investment Fund Managers Directive
The main regulatory standards for the European fund industry. For Member States registered in the European Union or engaging in the sale of funds to professional investors in the EU member states are subject to their specifications and has become a global standard.

Regulatory priorities include funds, managers and sales channels, and the introduction of investor protection mechanisms.

Regulatory object is "Alternative Investment Fund Manager (AIFM)" of Alternative Investment Funds.

Reduce system risk due to leverage and short sale operations.

Luxembourg is the first country to listed "AIFMD" in domestic law. At present, more than 220 "AIFM" have obtained authorization licenses and another 660 completed registrations

Regulated AIFM needs to report relevant information to CSSF on a regular basis.
About the approved requirements from the CSSF in Luxembourg
Acting for the security's financial supervisory authority of Luxembourg and taking charge of all regulated investment instruments.

For all fund auditors, the role of the auditor as a fraudster to check the fund's annual accounts, and comprehensively review the relationship between the IMF itself and other service providers (management companies, custodians, administrators, etc.).

Ensuring the laws and regulations of the financial industry and the international agreements and European directives it is in charge of, and have been strictly observed and implemented

All "AIFM" are in the scope of "CSSF" management and supervision.

Before the financial business start in Luxembourg, it must be obtained approved (to) by "CSSF". The elements should have: